We offer a Holiday Club during school holidays for 2-11 year olds, offering a variety of activities to suit all ages and stages of development and open from 8am to 6pm, Monday to Friday.
We are unable to provide a hot food option during the Holiday Club so please provide a packed lunch for your child. If you are interested please contact us, we will be happy to answer any questions.
If you are interested please contact us for more information.
Play scheme Holiday Club Prices (For school aged children)
Afternoon
1:00pm - 6:00pm
Our staff are all qualified or studying towards Childcare qualifications and our Holiday Club is part of our Ofsted-registered provision, which means we can accept Childcare Vouchers.
Please make Holiday Club payment with booking.
If a child is to attend all day, then please provide a packed lunch as hot school meals are not available during the school holidays.
We appreciate any additional ideas and resources which can be used for the Holiday Club.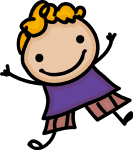 Want a Holiday Club booking?
Please contact us to request a booking form.